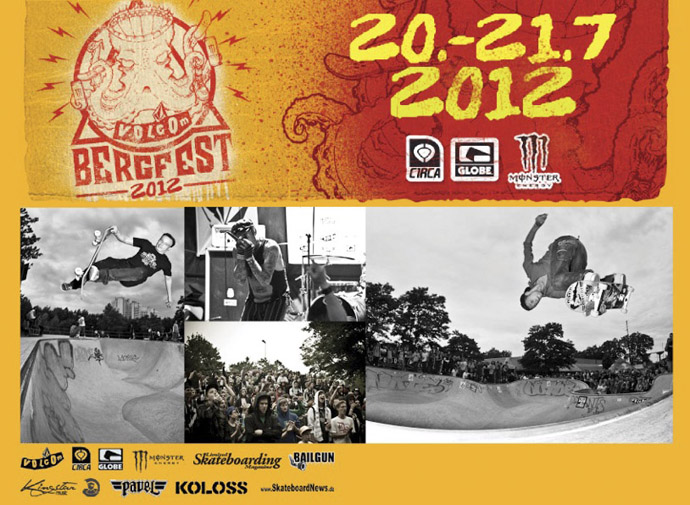 Here's some info to the Volcom Bergfest 2012 on July 20th and 21st @ Münster, total Prize Money is $6.000. The Contest will take place at the infamous Berg Fidel Skatepark in Münster, Germany. This park was well known for the legendary Bowl Sessions at the Münster Monster Masterships in the 90's.
There will be Am, Pro and Masters Divisions. Besides the main contest there will be a
Death Race
, a
Best Doubles Contest
in the Bowl and
Best Trick over the Berg Rail
. To top it off they're really happy to be able to present you the legendary punk band '
The Adolescents
' as this year's music highlight.
Friday, 20th July
16:00 Eliminations and Semifinal Kids
17:30 Eliminations and Semifinal Amateur
18:00 Pavel Death Race
19:15 Announcement of the best 4 Kids and Amateurs who make it tothe Saturday final
19:30 Live Music, Drinks and Practice all Riders till 22:00
Saturday, 21th July
10:00 Open Practice Masters and Pros
13:00 Eliminations Pros
14:30 Semifinal Pros
15:00 Eliminations Masters
15:30 Globe – Best Trick Bergrail
16:00 Band
16:30 Final Kids
16:45 Final Ams
17:00 Final Masters
17:30 Final Pros
18:00 Monster Energy – Best Double
18:30 Concert: The Adolescents
19:30 Award Ceremony
More Information: www.bergfidel.com