2013 – It's a new year and new road trips will soon be upon us. There's a lot of new spots that have been or just been completed here in Sweden just before the snow came down. So there's plenty to look forward to when the spring comes. There's even a new indoor skate park opening soon in Halmstad, which looks like it'll be pretty rad. So hopefully winter won't be so depressing.
So what have you been doing in 2012? Well here in Sweden the Swedish Skateboard Awards (svenskaskateboardgalan) are giving you the chance to vote for…
Giftorm* – Årets Skatare = Skateboarder of the year  /  Årets Videodel = Best Video part
Årets Utländska Prestation = Best performance of a Swedish skater abroad
Årets Böj = Best transition skater  /  Årets Team = Best Team
Årets Fotograf = Best Photographer (the jury's decision).
Årets Nykomling = Best new skater  /  Årets Filmare = Best Videographer (the jury's decision).
Årets Film = Best film  /  Årets Kvinnliga Prestation = Best girl skater
Årets Bild = Best Photograph (the jury will be voting who gets this).
Johan Florell Priset (Honory Prize – the jury's decision).  /  Årets Designer = Best Designer
You might not know who all the nominated are but you might recognise some of the names and companies on the list… so go in and vote… SWEDEN NEEDS YOU…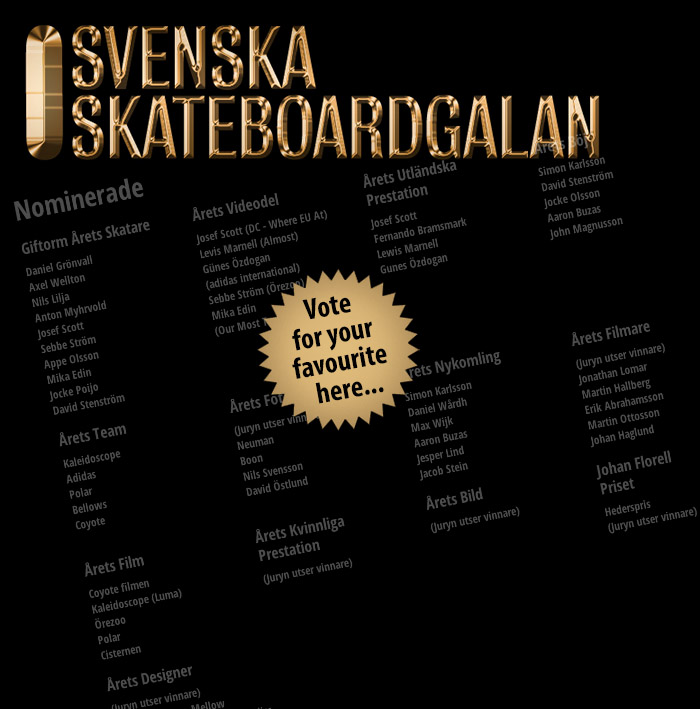 Stoked to be nominated again 🙂