Going to be a blast… the first BOWL-A-RAMA in Europe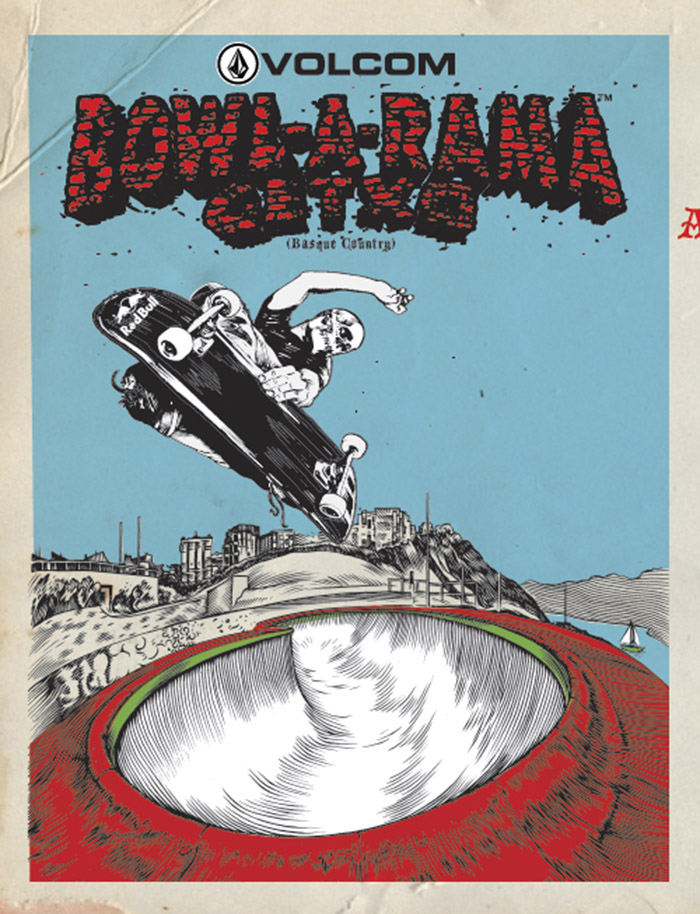 The countdown is on, with only a couple of days until the inaugural Volcom BOWL-A-RAMA Getxo. It's a week dedicated to celebrating La Kantera skateboard culture, kicking off on September 2nd through till the 7th, with the competition taking place on Saturday September 6, 2014.
The international PRO list is one of the strongest BOWL-A-RAMA has had with the cream of the crop; Al Partanen, Alain Goikoetxea, Alex Hallford, Alex Perelson, Alex Sorgente, Ben Raybourn, Bjorn Lillesoe, Bugs Fardell, Chris Russell, Colin Provost, Cory Juneau, Daan Van Derlinden, Danny Leon, David Sanchez, Diego Doural, Felipe Foguinho, Georgio Zattoni, Grant Taylor, Guillaume Mocquin, Ivan Rivado, Jaime Ruiz De Gopegui, James McInnes, Josh Borden, Julien Benoliel, Murilo Peres, Nilo Pecanha, Oskar Rozenberg Hallberg, Otavio Neto, Pat Mclain, Pedro Barros, Raney Beres, Raven Tershay, Rion Linderman, Rob Lorifice, Robin Bolian, Rune Glifberg, Sam Beckett, Sky Silijeg, Stephan Boussac, Steven Pineiro, Vi Kakinho and Vincent Matheron.
The Masters Division includes skateboarding legendary pool skaters, such as Andres Tallen, Badpro Fessor (Jean Terrisse), Brad Bowman, Lester Kasai, Mark RED Scott, Nick Couscouris, Pat Ngoho, Paul Davis, Peter Hewitt, Sean Goff, Sergie Ventura, "SAlba" Steve Alba, Steve Olson and Txus Dominguez (La Kantera skate park designer), as they grapple for the title of Volcom BOWL-A-RAMA™ Getxo champion and for a total prize purse of $US30,000.
"A bowl on the beach in summer in Basque Country with one of the best line ups ever for a comp. I can't believe I get to be a part of this. I know I should be working but I'll be fanning out pretty much the whole time. BOWL-A-RAMA is not just about the comp, it is about the gathering of all of our friends for a week celebrating what united us in the first place – skateboarding. Volcom and Getxo are letting us through one massive party. Come and enjoy it with us." Chad Ford.    
Fans outside of Getxo (Spain) can watch the action live via a global webcast from HYPERLINK "http://www.bowlarama.com.au/live" http://www.bowlarama.com.au/live kicking off from 11am!