Swedish Skateboard Reunion in Borlänge – Dalecarlia Pro/Am 2012 on the 2nd & 3rd November 2012
This event/get together will be held in the indoor park KFUM-hallen in Borlänge. Address is Hantverkargatan 22, Borlänge.
KFUM is open on Friday from 12.00 and from 10.00 on Saturday. More info on the FaceBook event.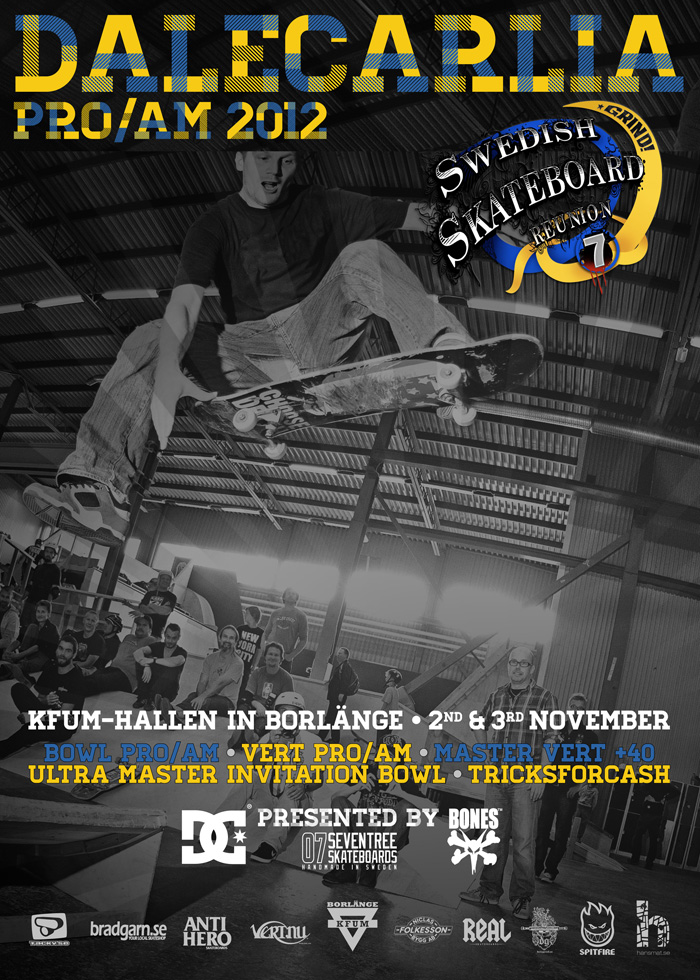 Fredag 2/11, öppen åkning från 12.00-
Kval Bowl 19.00- Max 40 åkare annars körs den tidigare…
12 st seedade åkare direkt till kvartsfinalen lördag.
Lördag 3/11, öppet träning från 10.00-.
Inskrivning sker 17.00- fredag och 11.00- lördag.
12.00 Kvartsfinal Bowl
24 åkare, 4 heat på 10 minuter med 6 åkare, 12 till semi 13.00. Kval Vert ProAm,
4 gruppers jam på 5 minuter, 3 åk, 12 till semi
14.00 Semifinal Bowl ProAm,
12 åkare, 3 heat på 8 minuter med 4 åkare, 6 till final
15.00 Kval Master Vert,
4 gruppers jam på 5 minuter, 3 åk, 8 till semi
16.00 semifinal Vert ProAm,
12 åkare, 2 heat på 8 minuter, 4 åk med 6 åkare, 6 till final
17.00 Master Semi Vert,
8 åkare, 2 heat på 6 minuter, 3 åk med 4 åkare, 4 till final
17.30, Ultramaster invitaion Final,
ca 12 Inbjudna åkare kör 30 minuter jam i ordningsföljd, 3-4 åk
18.00 Vertfinal Pro-Am,
15 minuter, 6 åkare,
18.30 Vertfinal Master,
15 minuter, 4 åkare
Senast 19.00 Final ProAm Bowl
15 minuter, 6 åkare